TKKM o Bernard Fergusson Additional Learning Spaces.
A MODULAR BUILD WITH INCREASED HEALTH AND SAFETY CHALLENGES DUE TO COVID LEVELS STILL DELIVERED ON TIME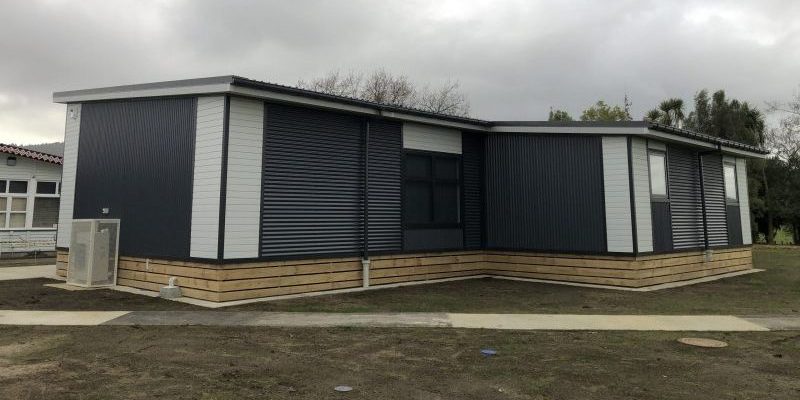 Being the resilient team they are, Lobell was eager to get back to work and everything resumed on 1 May 2020.  Changing the construction methods to abide by the increased health and safety requirements was a challenge, but the team was up to the task.
"It was a huge crane, quite an impressive sight to see!" commented the principal, Paul W Royal.
BY 9 July, an informal handover took place and the school could start making use of the new facilities.
"The facilities are perfect for our needs.  The benefits of these buildings are that you can add more to it if your needs grow or change.  The Ministry allowed the school to add some more extras to their new asset to expand on our ability to provide for our
learners.  The two pods were combined into one space where we installed a commercial kitchen with professional equipment.  The "Healthy Lunches Programme" initiative from the government enables us to utilise this kitchen and provide all our learners with a healthy meal every day."
Another pod has since been constructed as a woodworking facility, and the school plans to add another one for metal works.  This will allow the school to keep all the learners on the premises for all their classes.
"Throughout the build process, Lobell stayed well within their lane and stuck to the job at hand.  With communication through the delivery manager of the MoE, we were kept in the loop at all times and the project was executed without a problem or any disruption.  We were very happy with the result as the workmanship was at a very high standard."
Paul W Royal had this to say about Lobell:
"I would recommend them as the builders on any project of this sort. Quite the professional approach and they executed the build as it was designed. We are very happy with the result."